ANTIFREEZE POWDER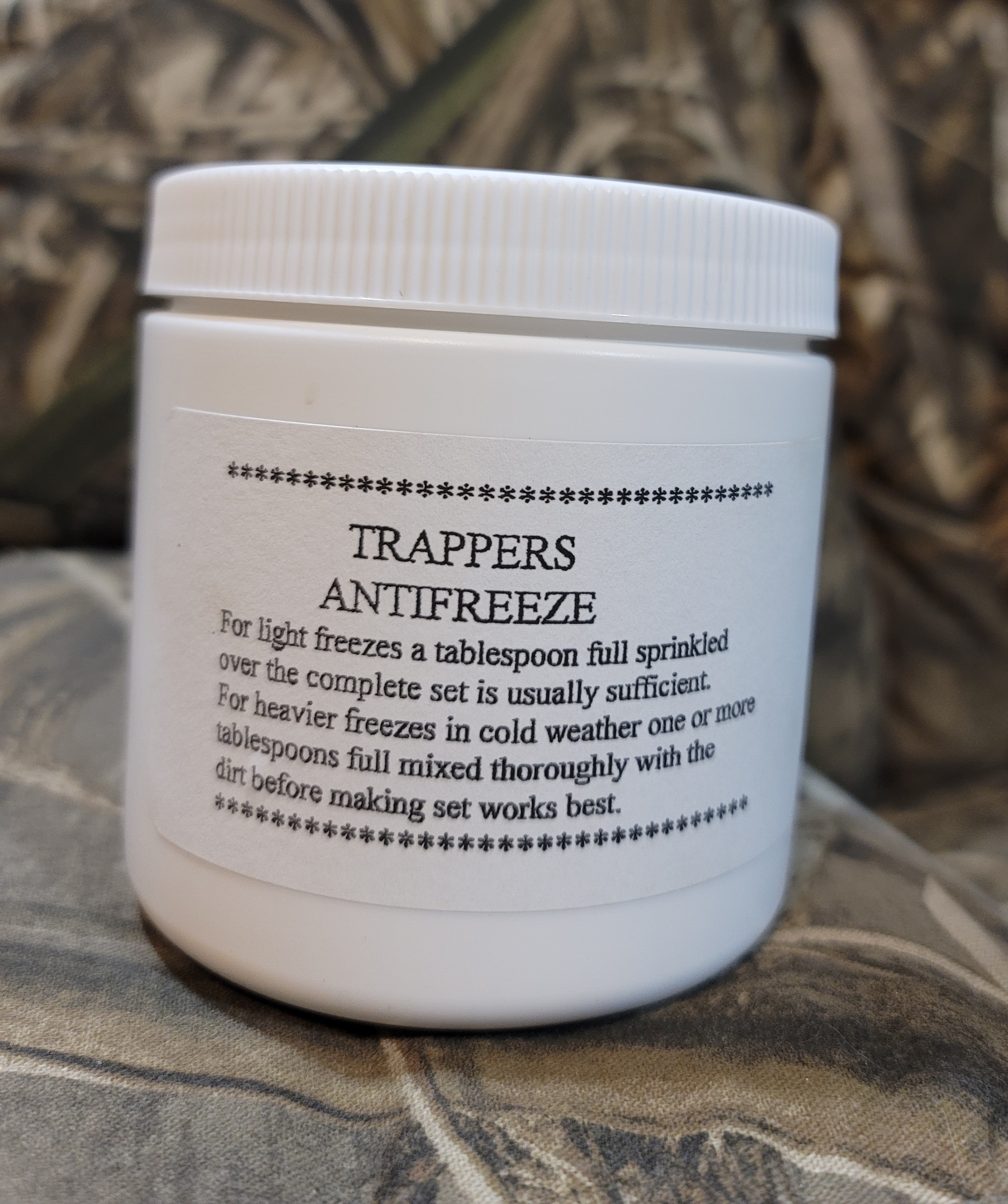 $ 4.00 USD
Many trappers say use peat, wax dirt etc. We still to this day use this product with dry dirt and have much success. This product is extremely fine and is packaged in a flip top bottle so it easily squirts over your trap bed!! On extreme weather temps we mix a little bit with our dirt we bed our traps in. We have used this for many years and although many products are available we use what works for us.

"Additional Shipping Included" -- COVER HULLS 20 lb bag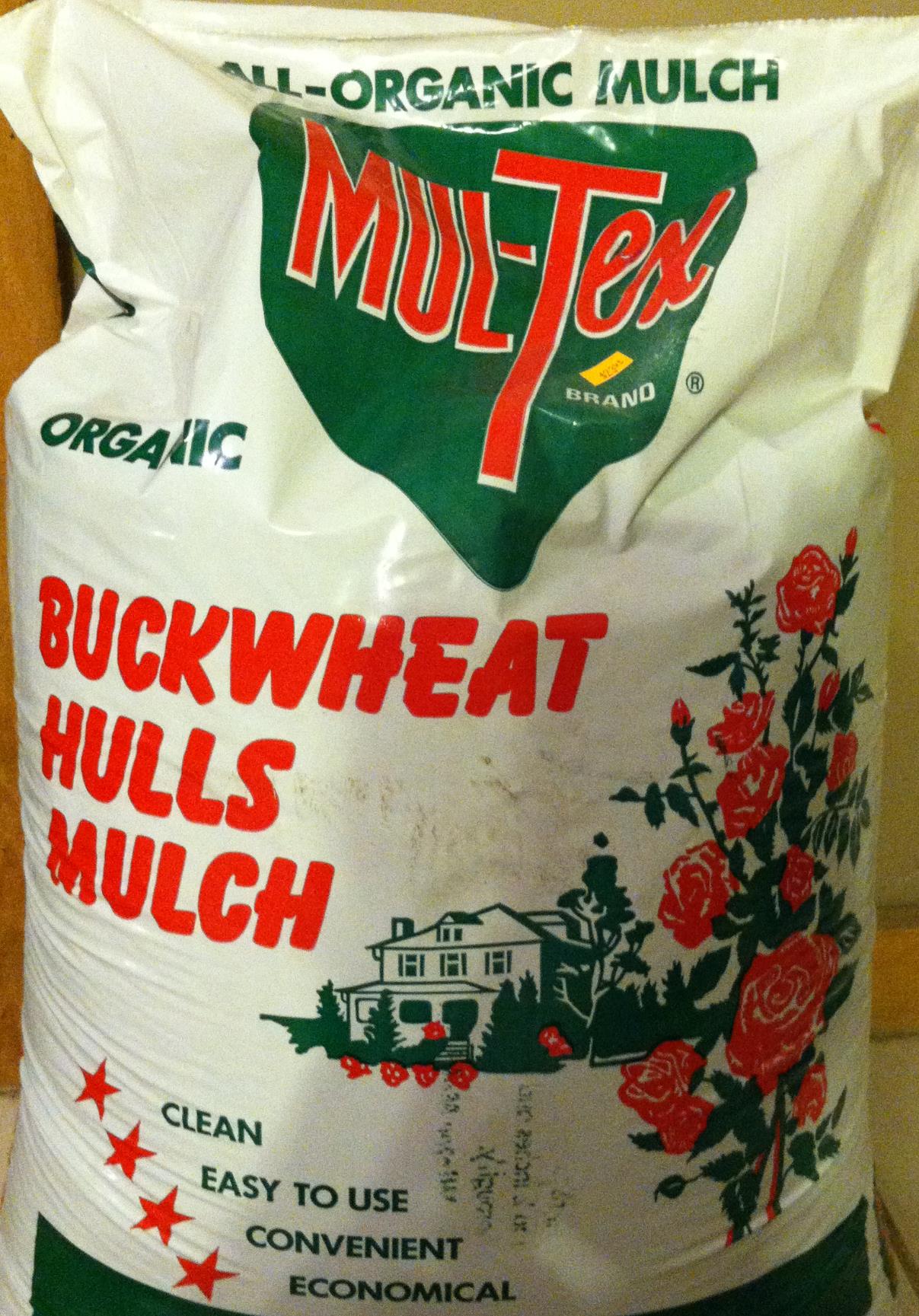 $ 30.95 USD
What can we say about Cover Hulls We love them although they are getting Extremely expensive. They will not freeze at all on you, although I prefer dirt with antifreeze on my canine sets my kids only use buck wheat hulls. They have caught bob cats, coyotes, and fox,and coon, by just using cover hulls to cover their traps.
EYE DROPPER each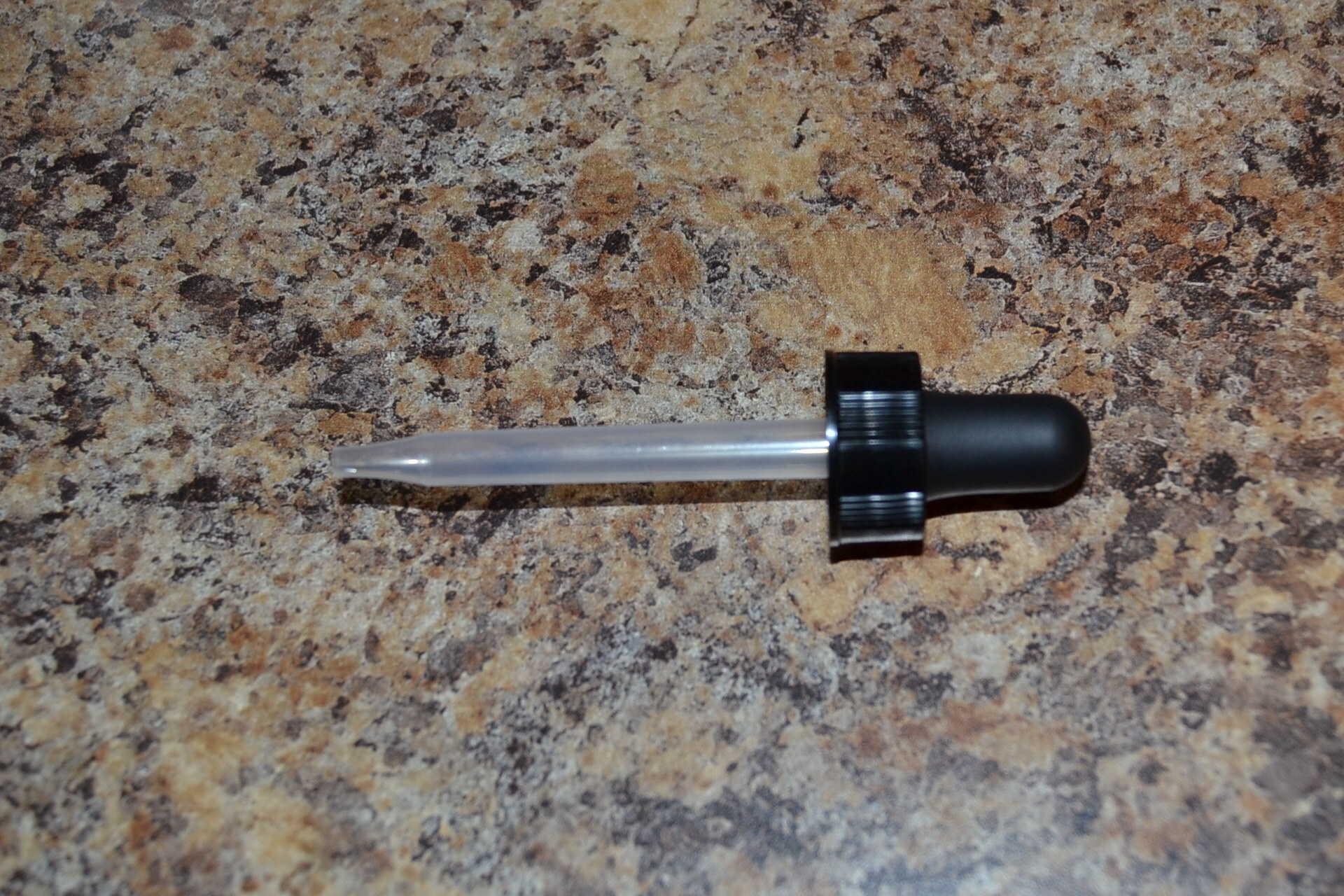 $ 0.35 USD
1oz SIZE FITS 1oz LURE BOTTLES
A great quick and easy way to apply your lure
EYE DROPPERS (for 5)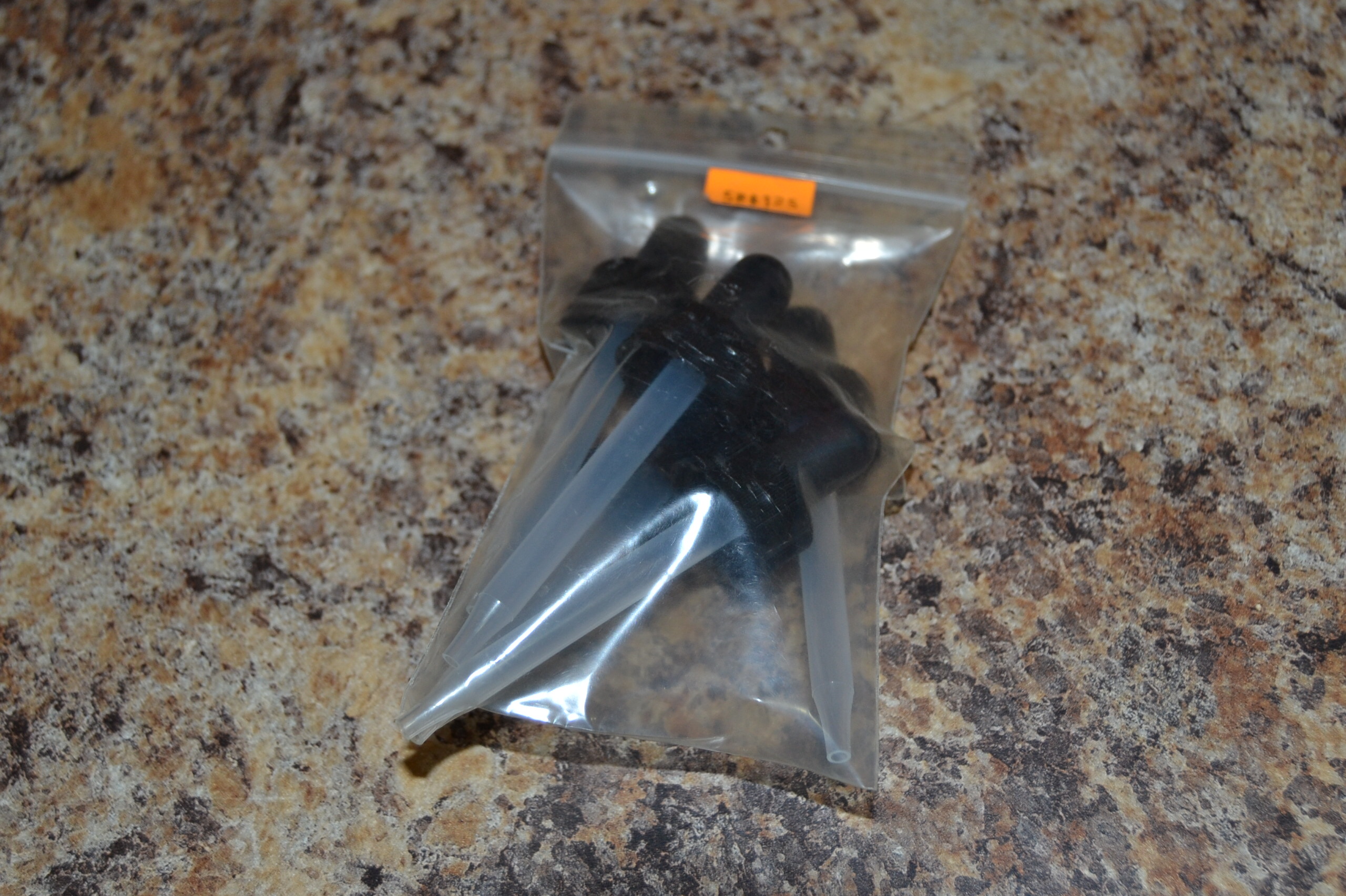 $ 1.50 USD
1oz SIZE FITS 1oz LURE BOTTLES
Eye Droppers 4oz size ea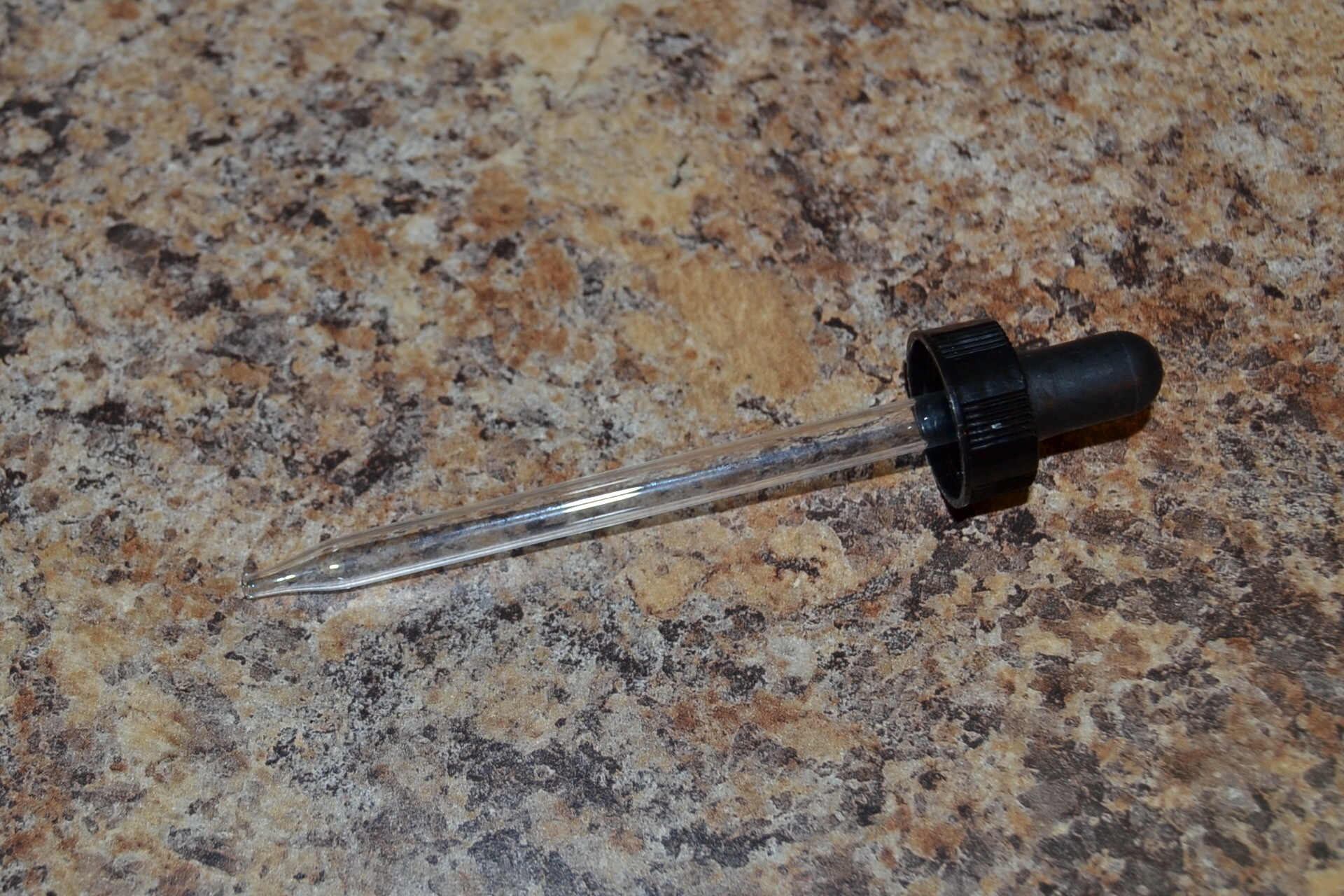 $ 0.75 USD
This Eye Dropper is Designed for 4oz Bottles!
Eye Droppers 4oz size (qty 5)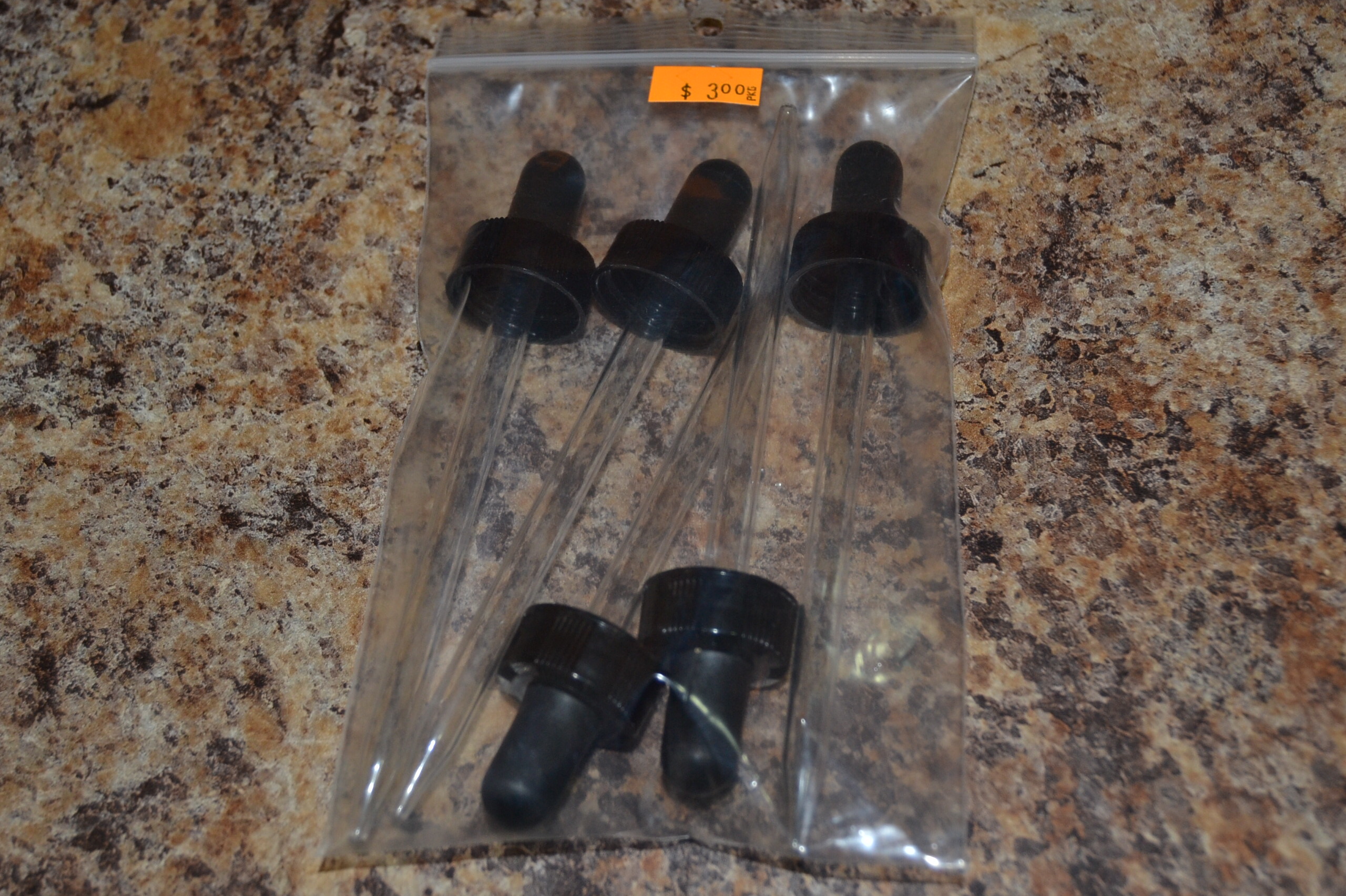 $ 3.50 USD
These are for 4oz bottles. This is for 5ea GLASS Eye Droppers!
METAL DIRT SIFTER
$ 7.25 USD
LURE CAPSULES - 12 PER PACK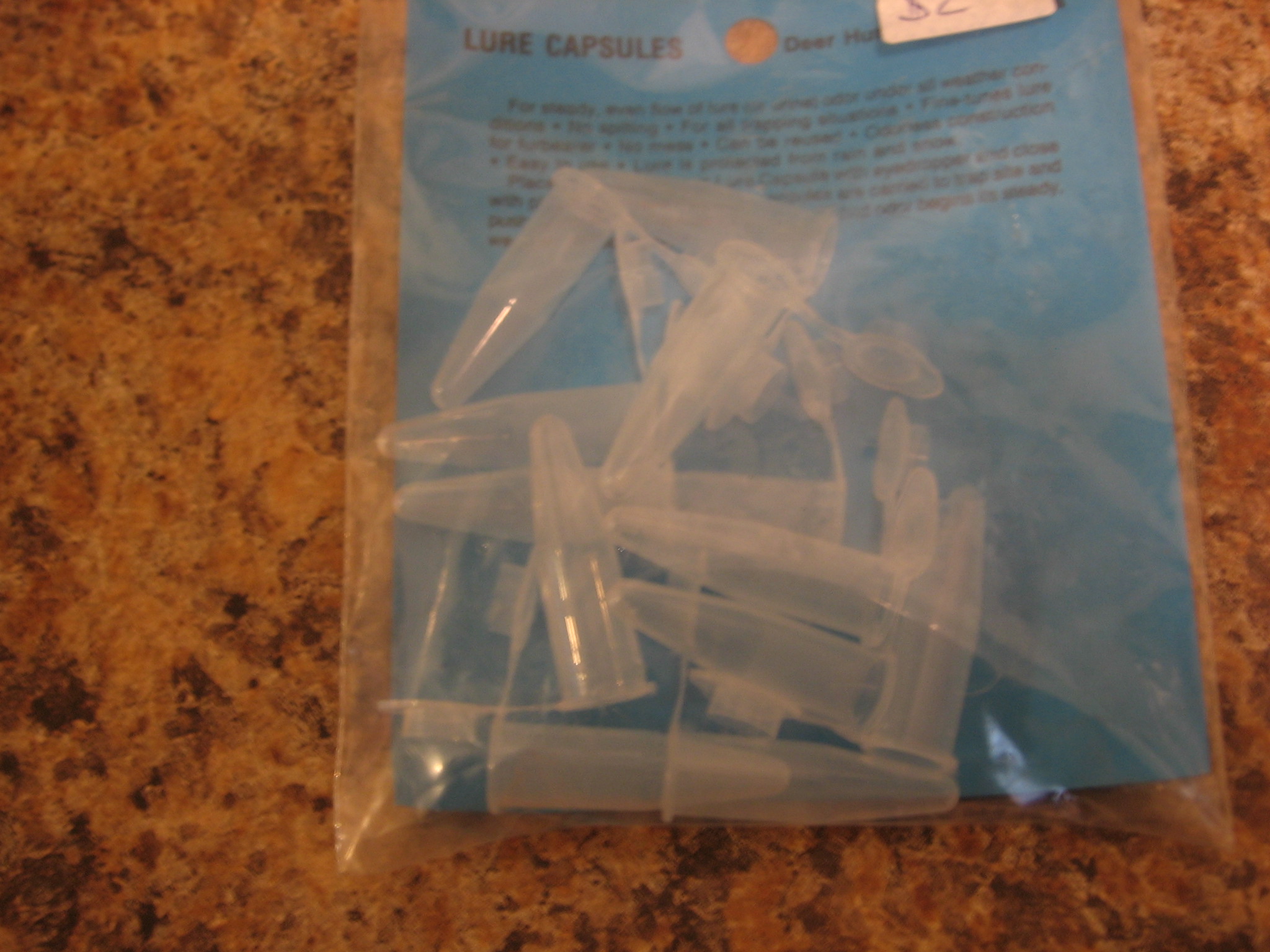 $ 3.95 USD
No spilling & no mess. Can be reused. For a steady even flow of lure or urine.
Wide Trowel w/ D Handle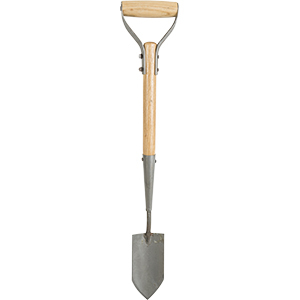 $ 14.95 USD
Narrow Trowel w/ D Handle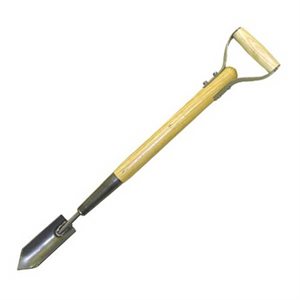 $ 14.95 USD
Trappers Kneeling Pad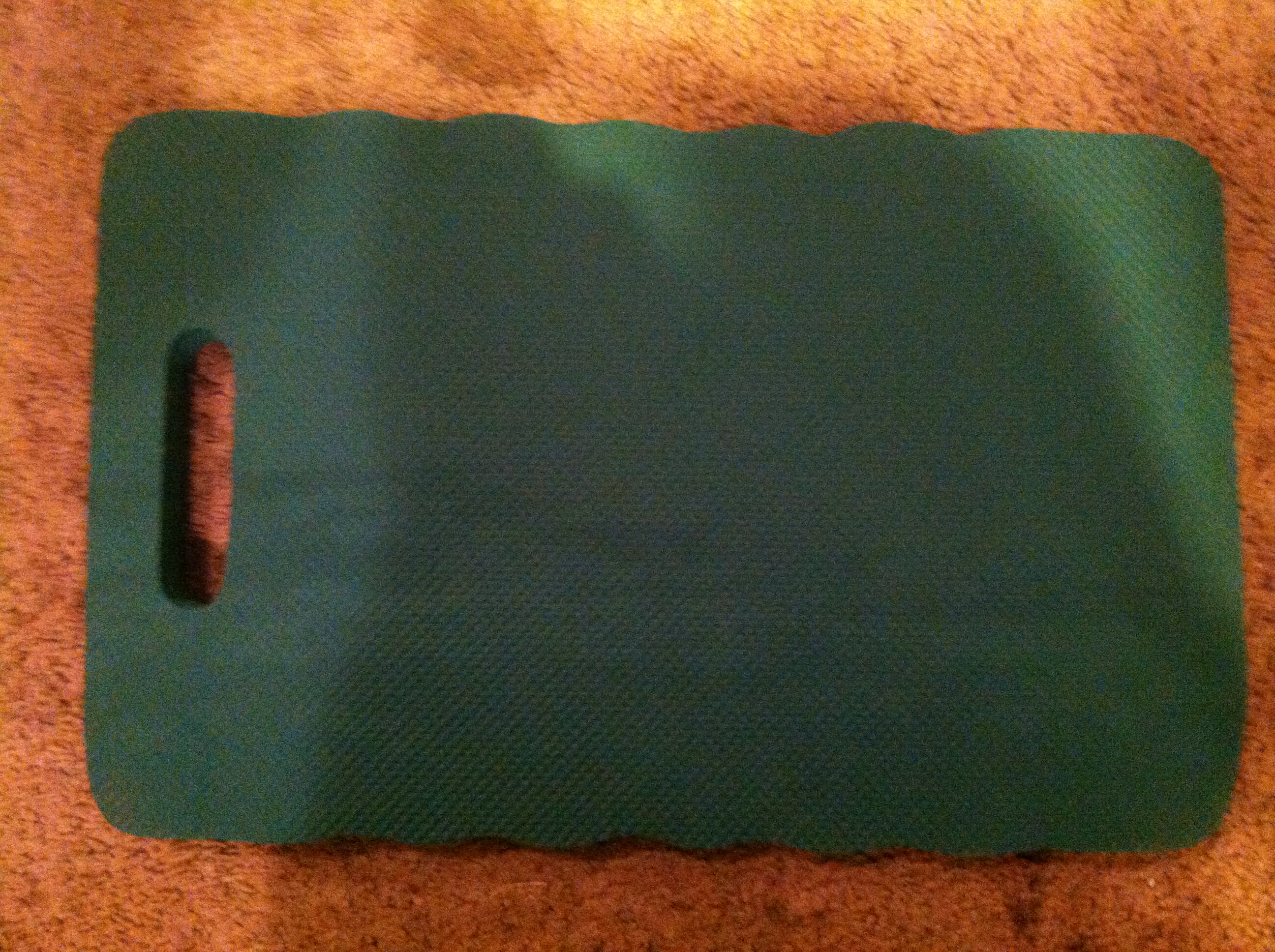 $ 7.95 USD
A well needed item for all canine trappers!!
MB CAPS for 450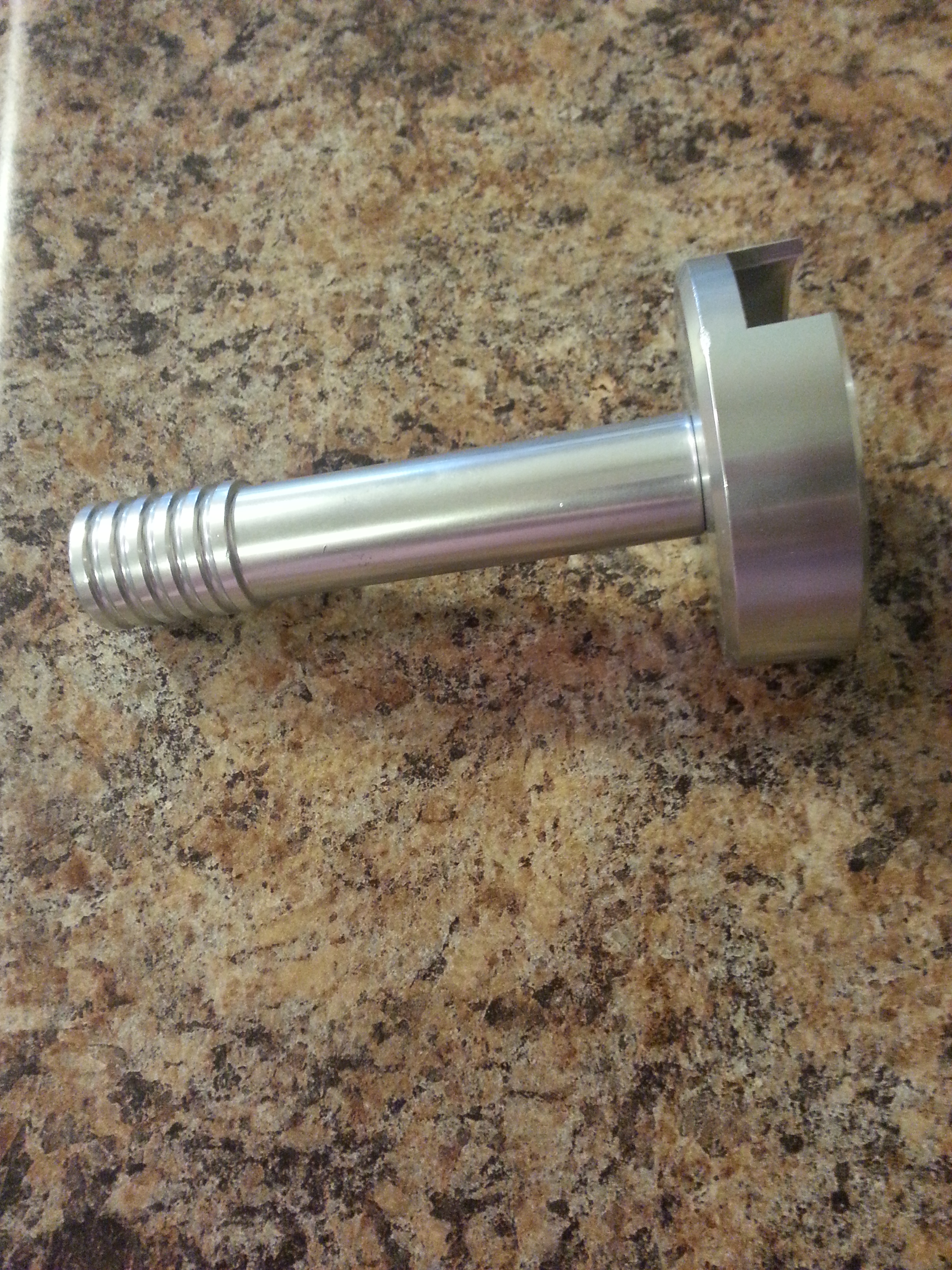 $ 21.95 USD
MB CAP 550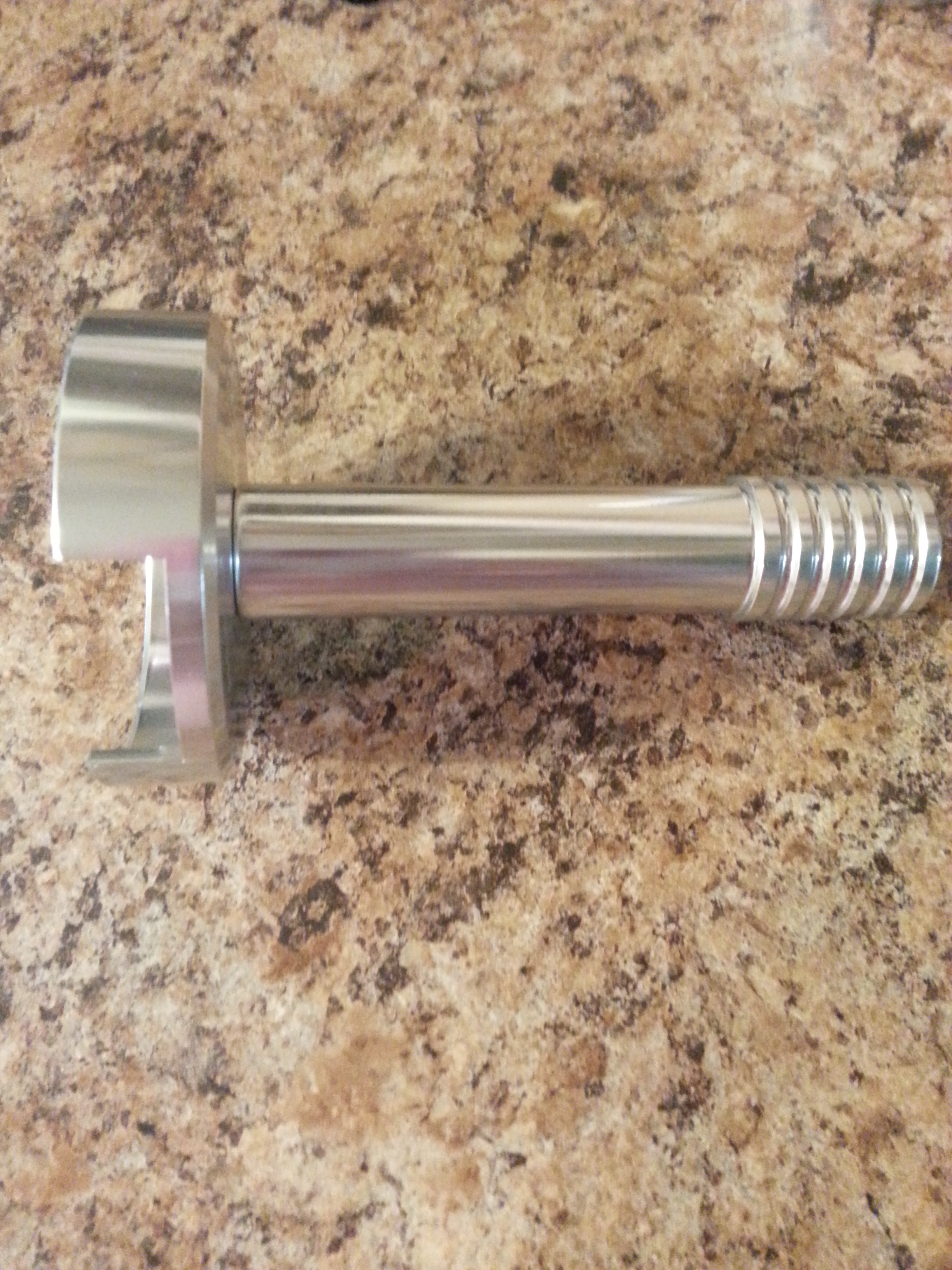 $ 21.95 USD
Rubber CrawfishTrapping Bait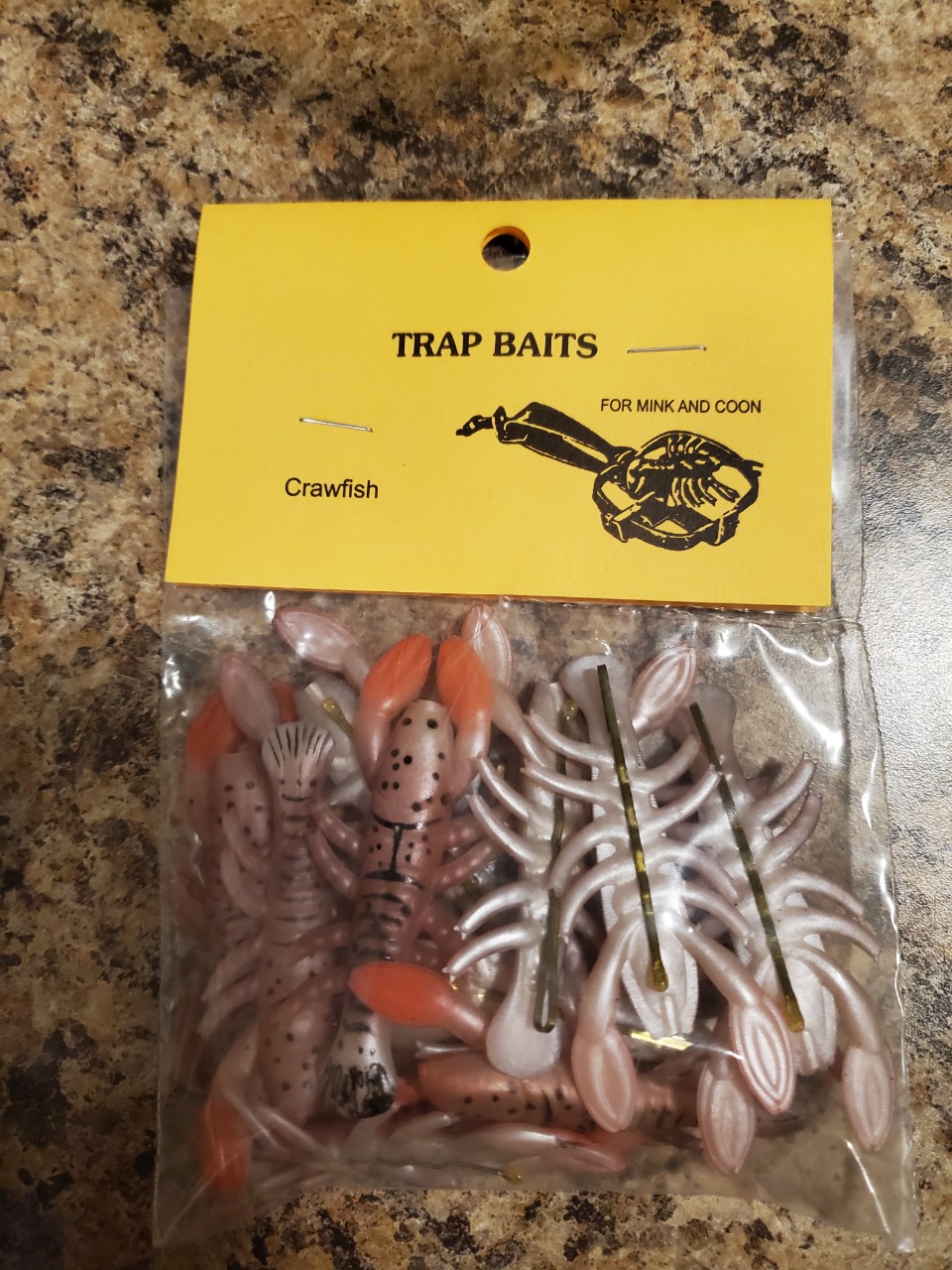 $ 7.95 USD
These crawfish are great for catching coon and mink. Just clip the crawfish onto your pan and put into the water.
TRAPPER CAP MODEL A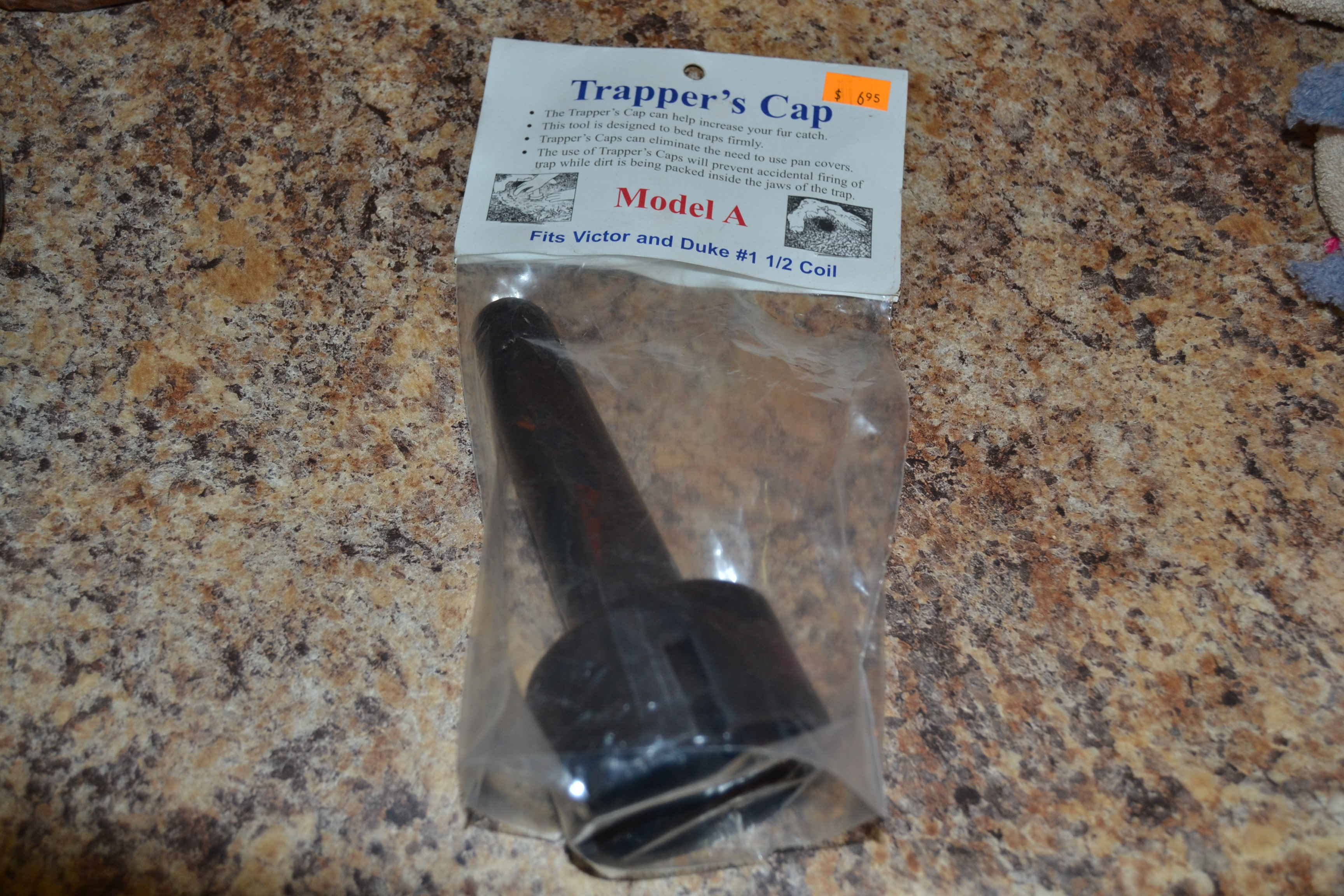 $ 7.95 USD
ROUND PANS 1 1/2 COIL
Although we prefer fiberglass pan covers, Many trappers use these and they are a great seller
TRAPPER CAP MODEL B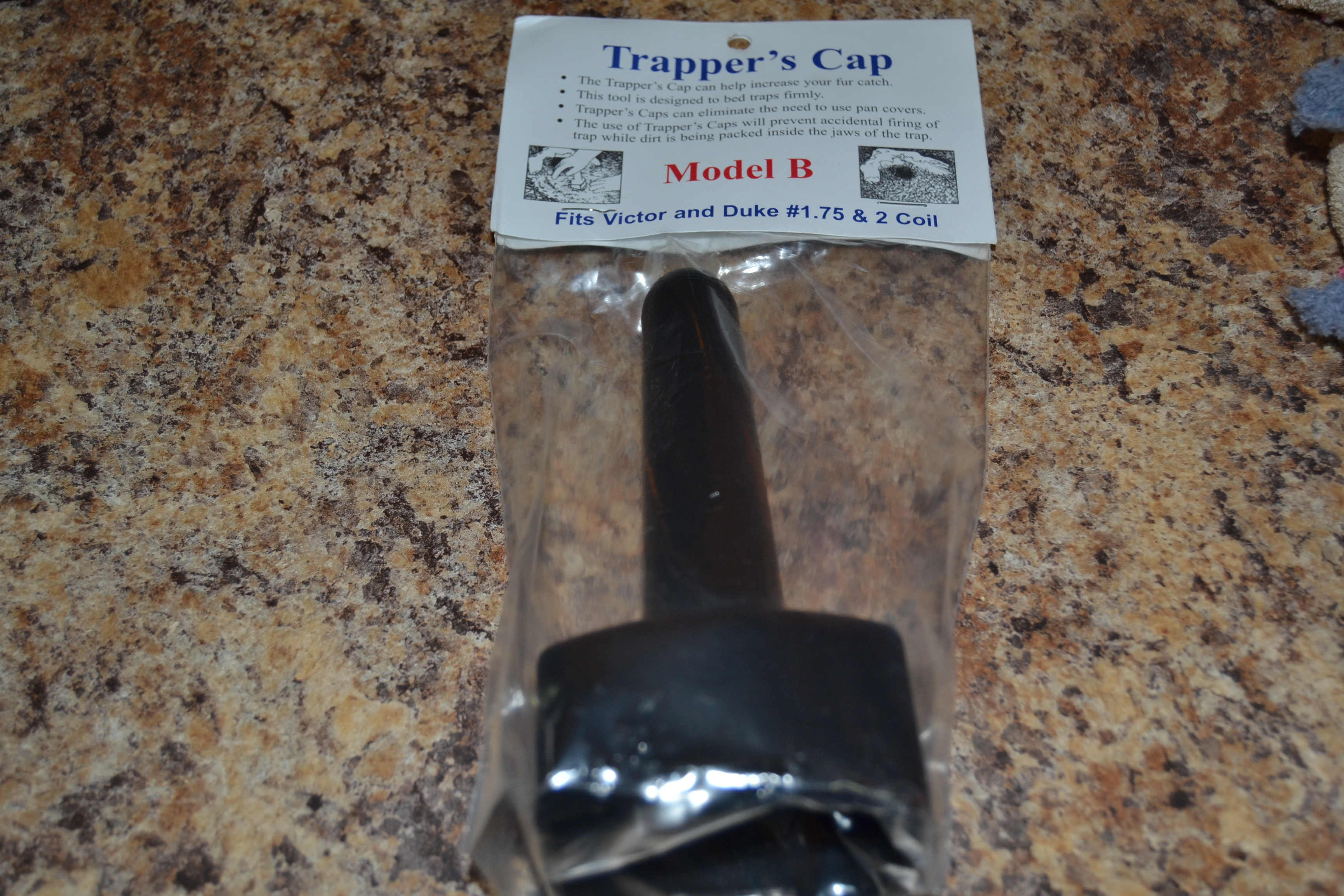 $ 8.95 USD
SQUARE PANS 1 3/4 & 2 COIL
TRAPPER CAP MODEL C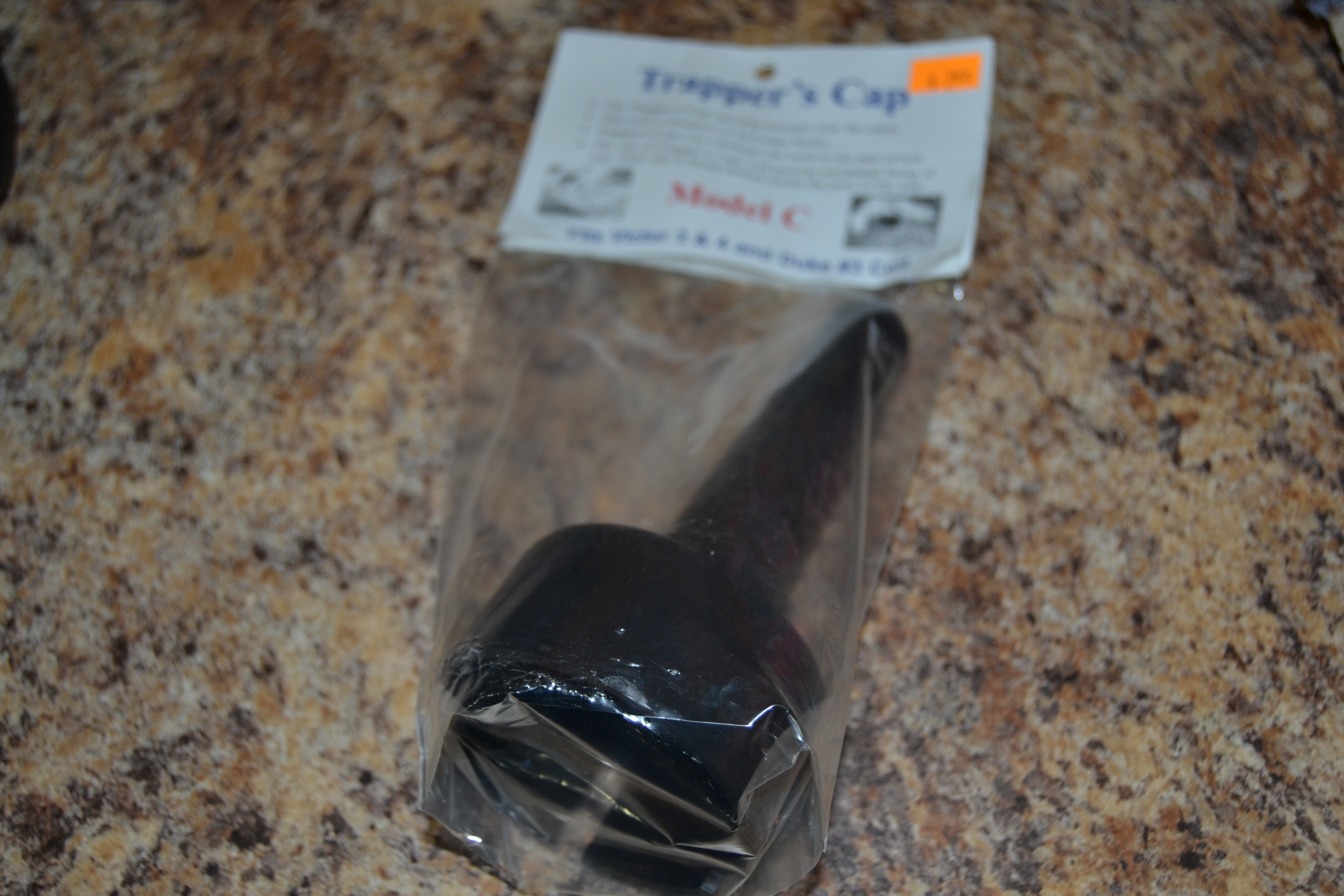 $ 8.95 USD
ROUND PANS #3 L.S., #3 RJ, CS, #3 SOFT CATCH
MACE'S STEEL CATCH POLE 48"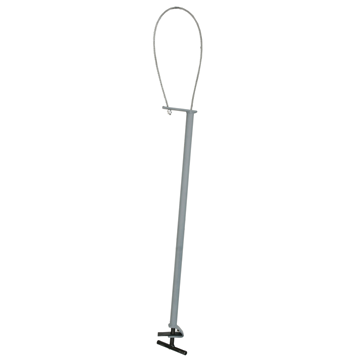 $ 27.95 USD
We personally carry one of these all the time on our trapline
Additional shipping included in this item!!
PVC CATCHPOLE 48"
$ 26.95 USD
Light weight and preferred by many, a great seller. Additional shipping Included
3 IN 1 TOOL TROWEL "THE GROUND HOG"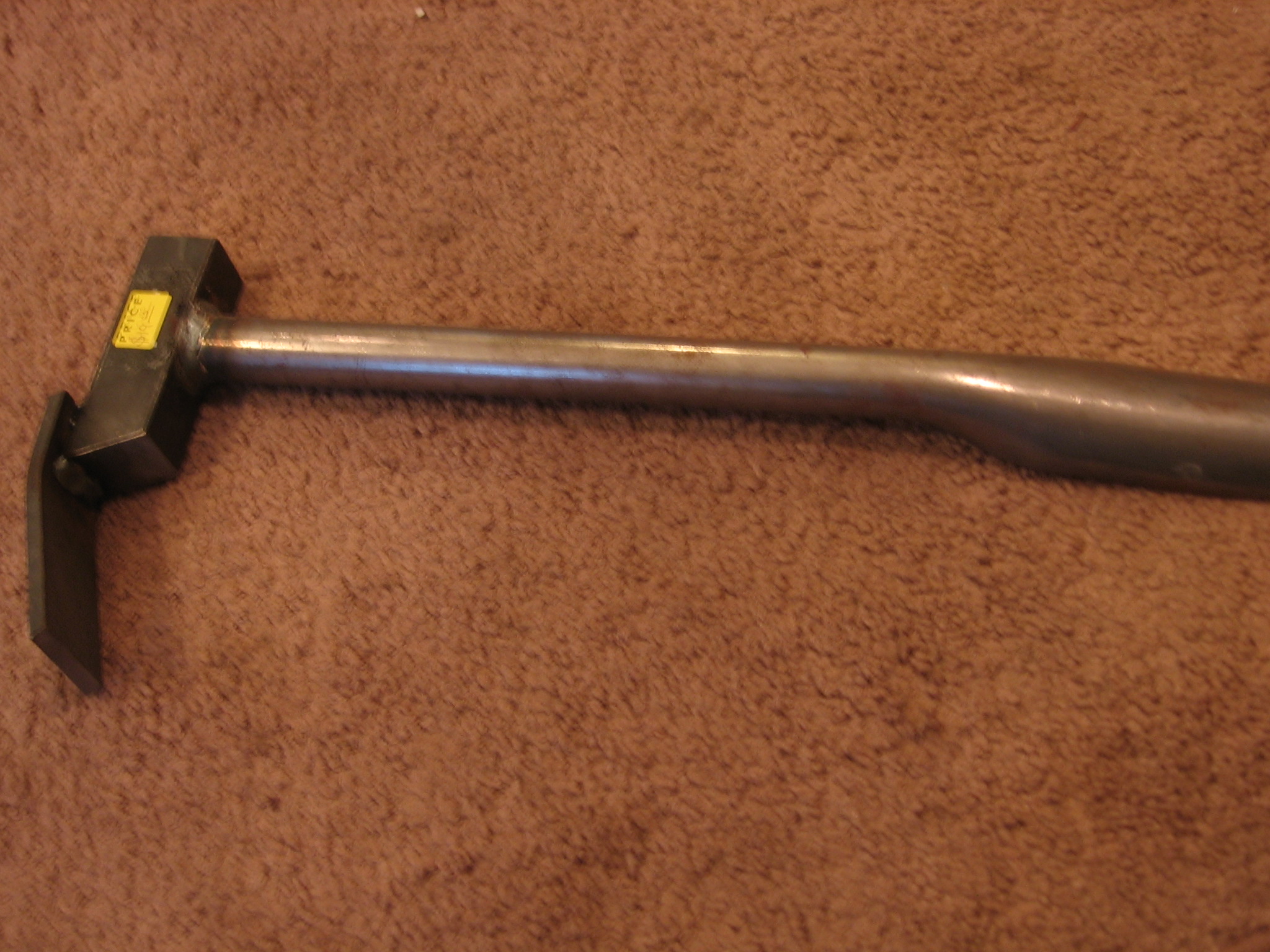 $ 21.95 USD
HAMMER HOE. OVERALL APPROXIMATE LENGTH 20". OVERALL WEIGHT APPROXIMATE 4LBS. All the tool you need in one item
22" HEAVY DUTY TROWEL WIDE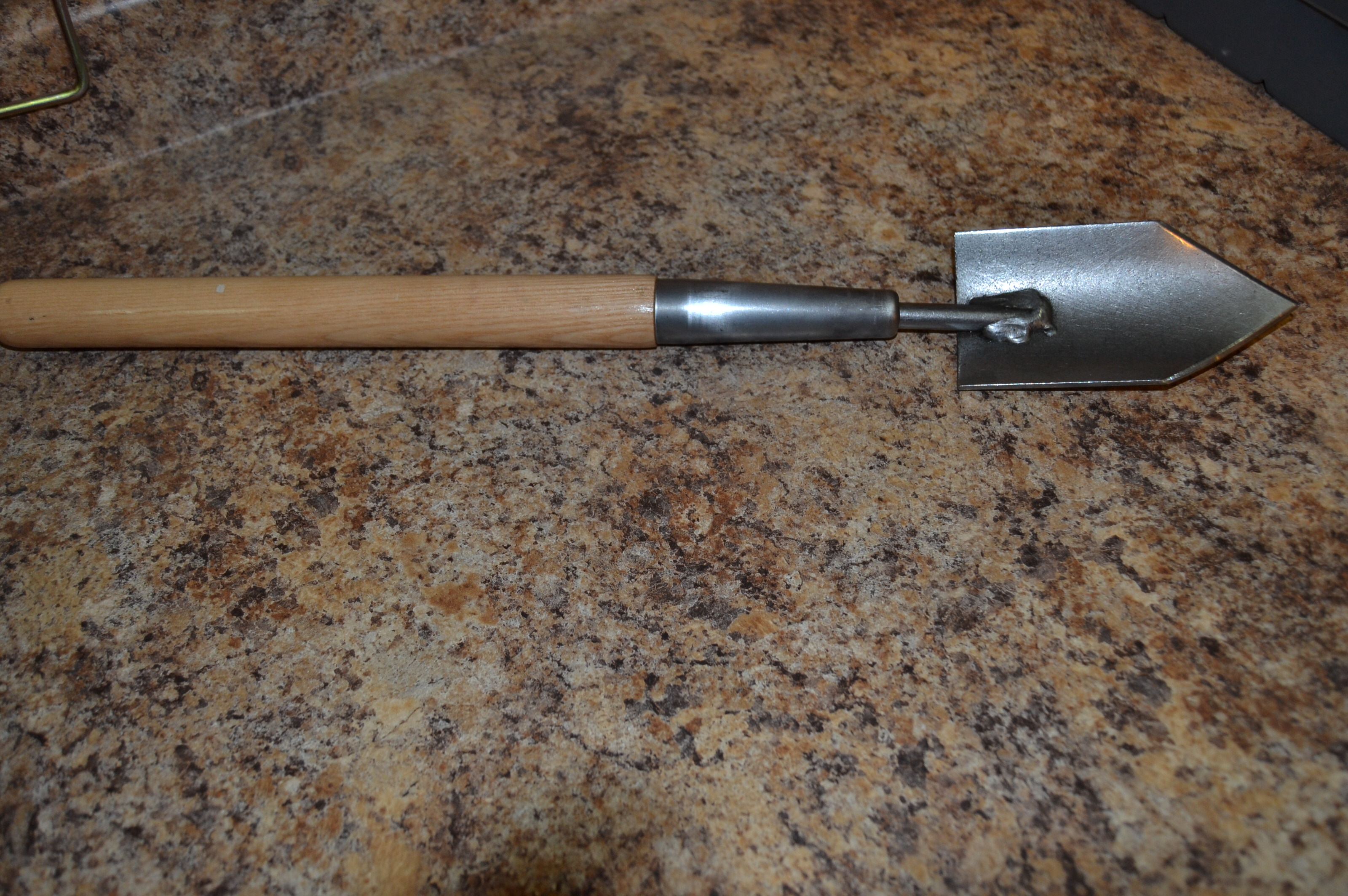 $ 8.95 USD
Nice trowel to dig out you bed for canines and also works great for pocket sets on your water line
22" HEAVY DUTY TROWEL NARROW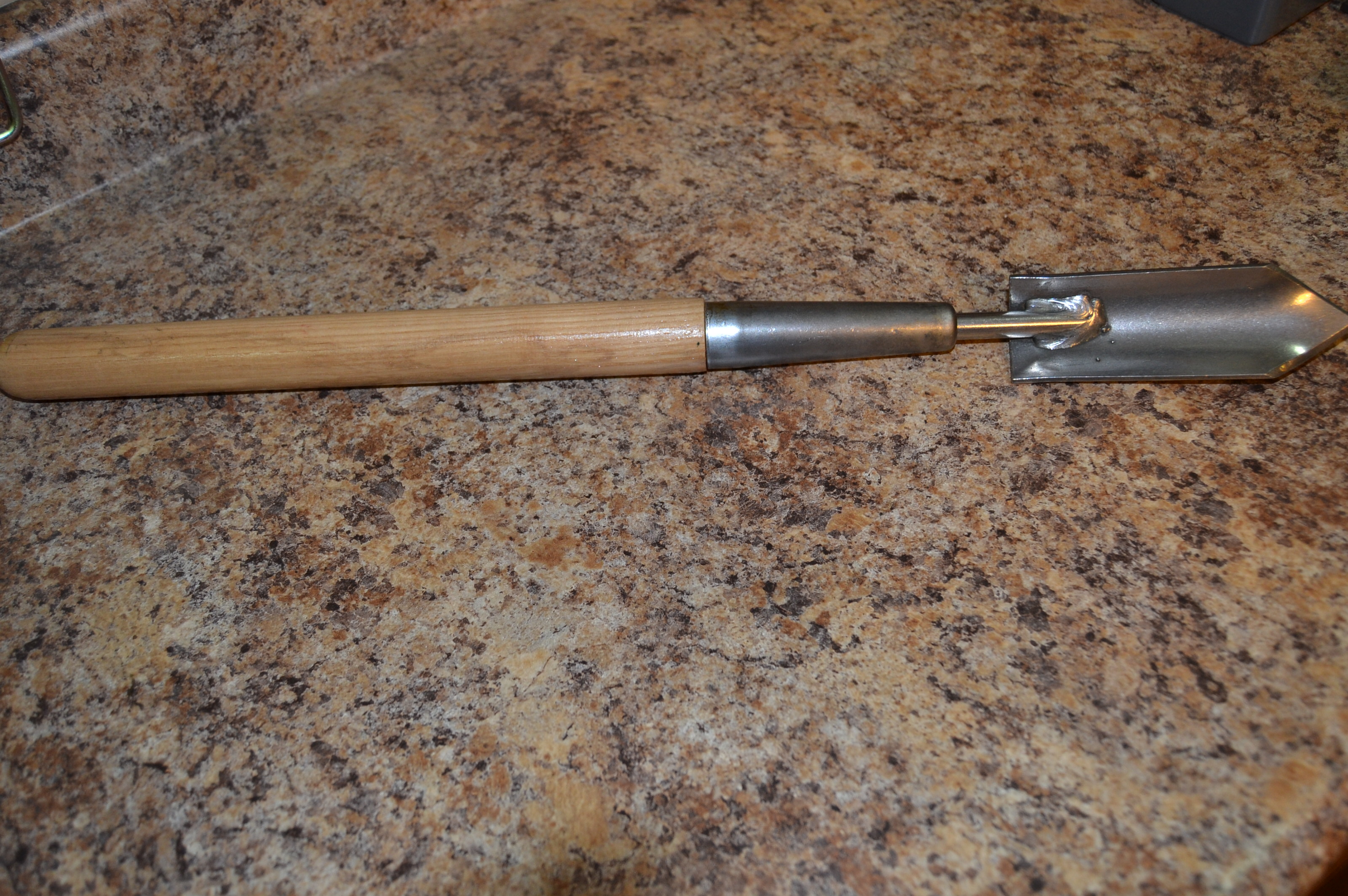 $ 8.95 USD
Wonder trowel for digging your dirt holes
SOD BUSTER
$ 22.95 USD
A 4lb hammer w/ cutting edge that will break through the toughest sod. Fiberglass handle. WOW we would be lost without this tool in the winter when the ground is frozen.
D HANDLE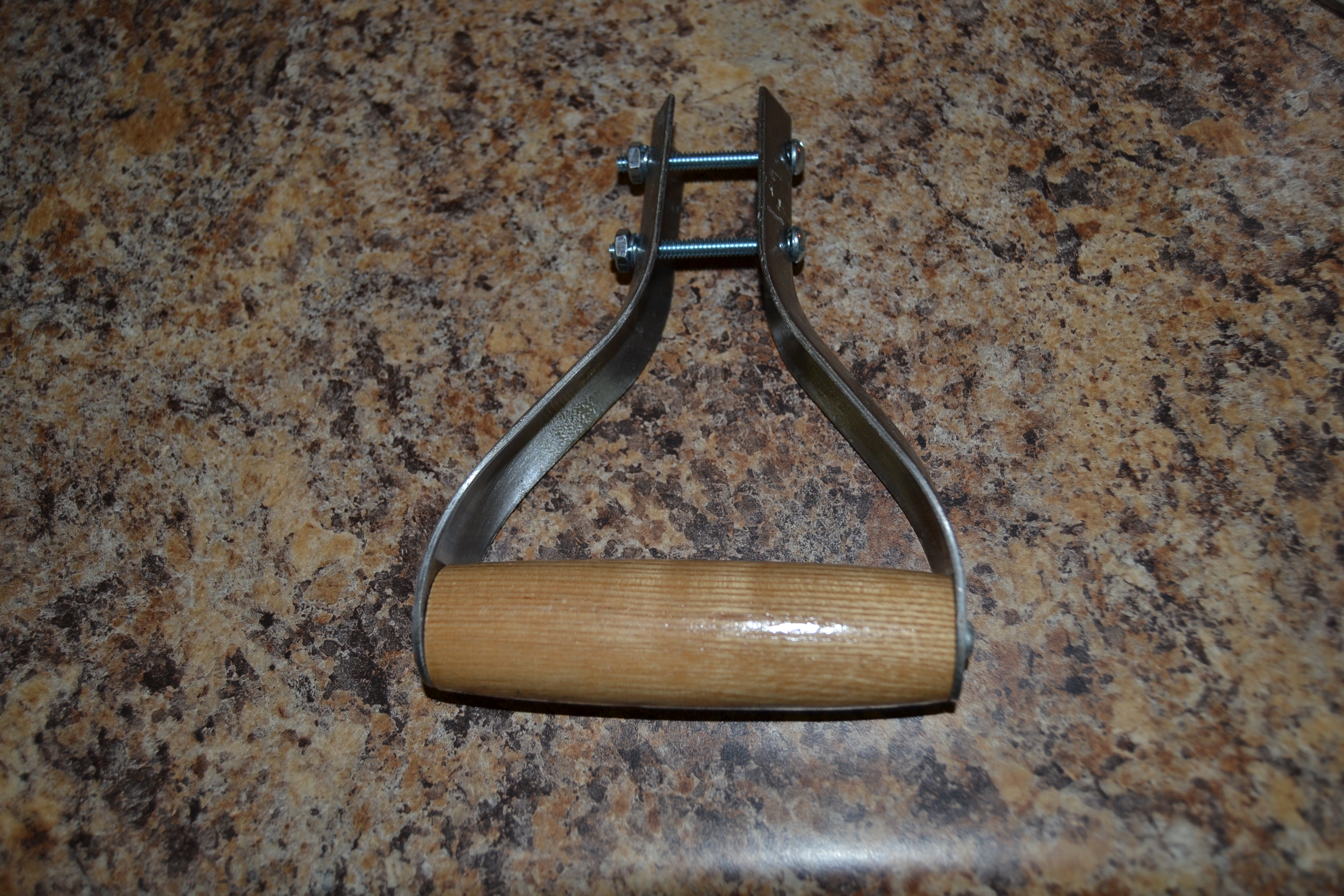 $ 4.95 USD
FLAKE WAX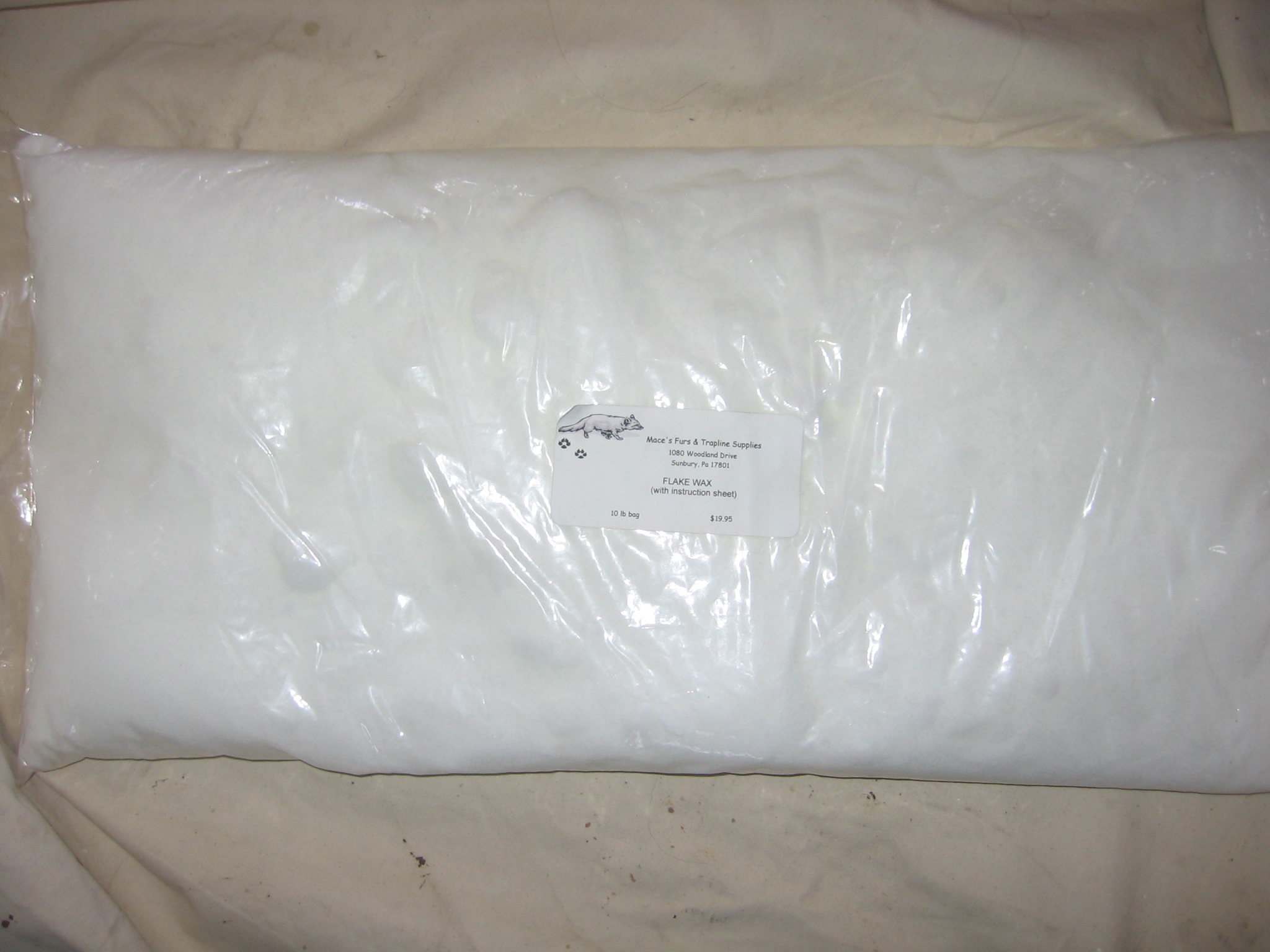 $ 32.95 USD
10 LB BAG WITH INSTRUCTIONS!! This is the finest wax you will find. You do not need to heat this wax as it is so fine smaller thain a grain of salt you can spread this wax on top of your dirt and let the sun do all of the work for you.. We handle the best wax for dirt on the market. Although it may not be the cheapest we will guarntee it is the finest on the market!! We have many repeat customers that want 40 plus pounds every year! We WILL NOT SHIP THIS IN THE SUMMERTIME as it is so fine it will melt in the heat and all you would receive is a big bar of wax Sorry!!
Round Pan Covers pack of 25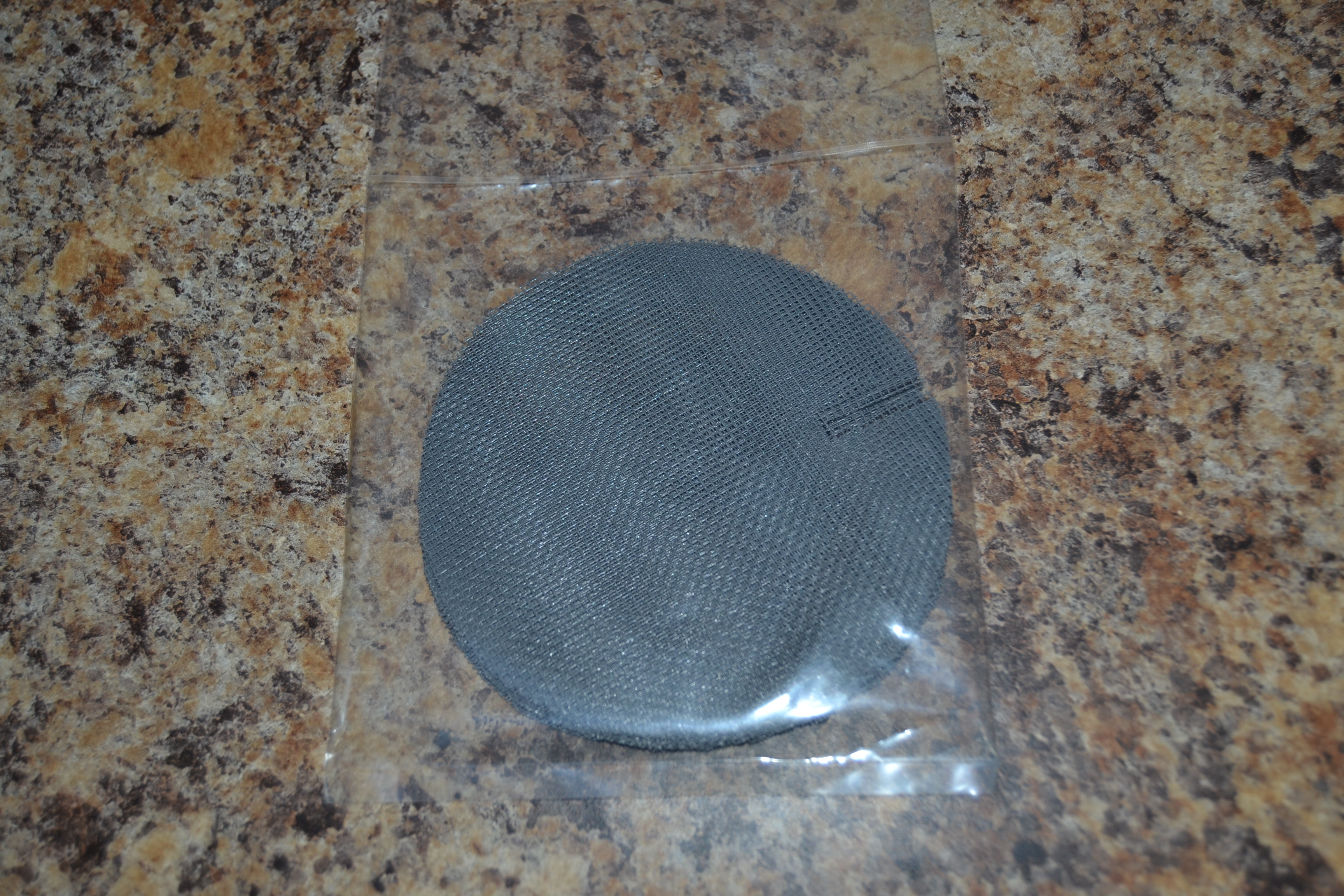 $ 3.25 USD
#1 1/2"
#1 3/4"
At the price of 24 why would you even want to try to make your own, we are cheap and make most everthing we use. We will not take our time to cut screen aor wax paper etc. Many times these covers can be reused but sometimes canines feel pan covers are a treat!! We use this product 100% of the time.
Square Pan Covers pack of 25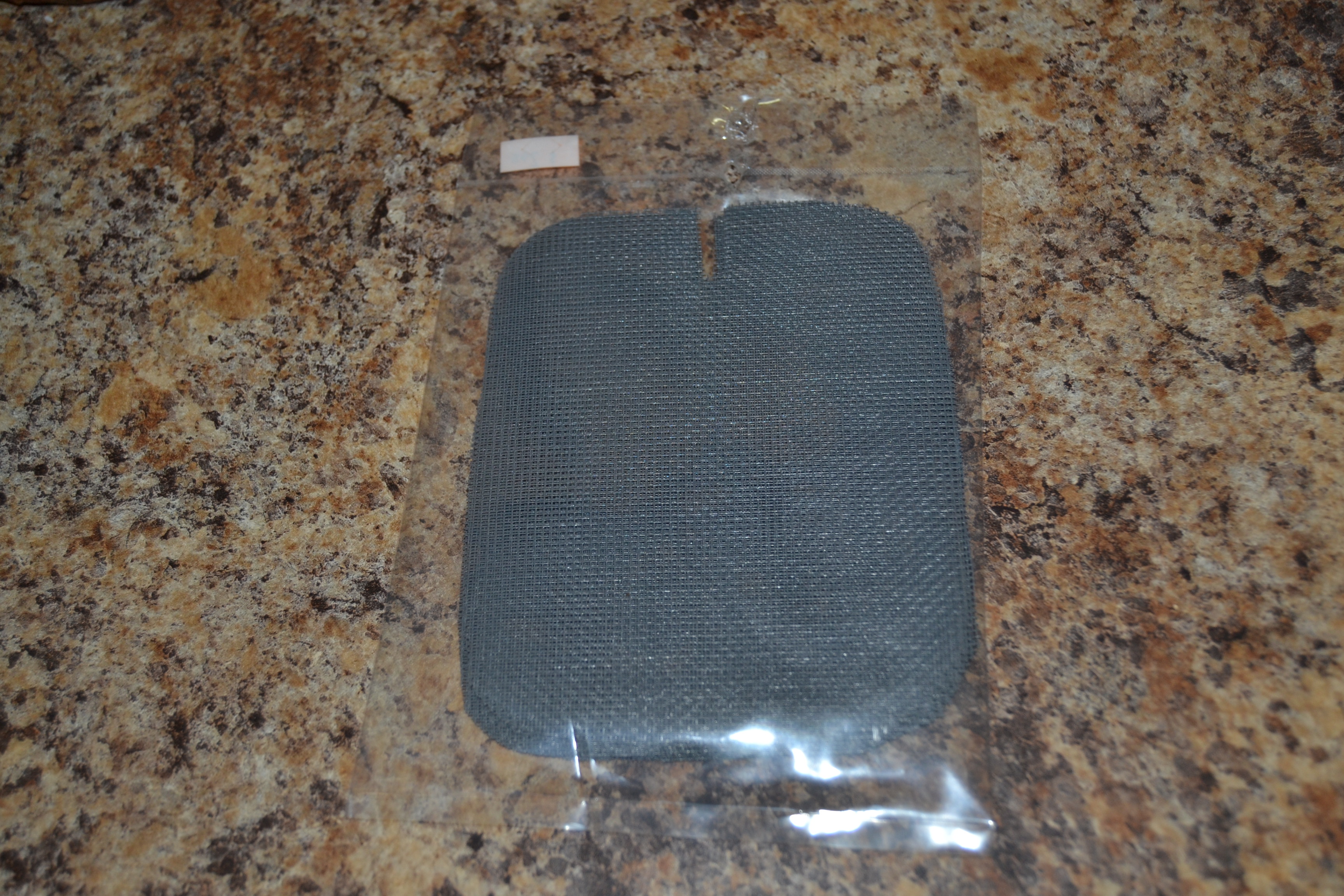 $ 3.25 USD
#2, #3 #4 We will not run a canine trapline without carrying both round and square pan covers as we use a various brand and types of traps. We feel that carrying these pan covers it is much more cheaper then spending time to make our own.
5lb bag of Buckwheat Hulls "Additional Shipping Included"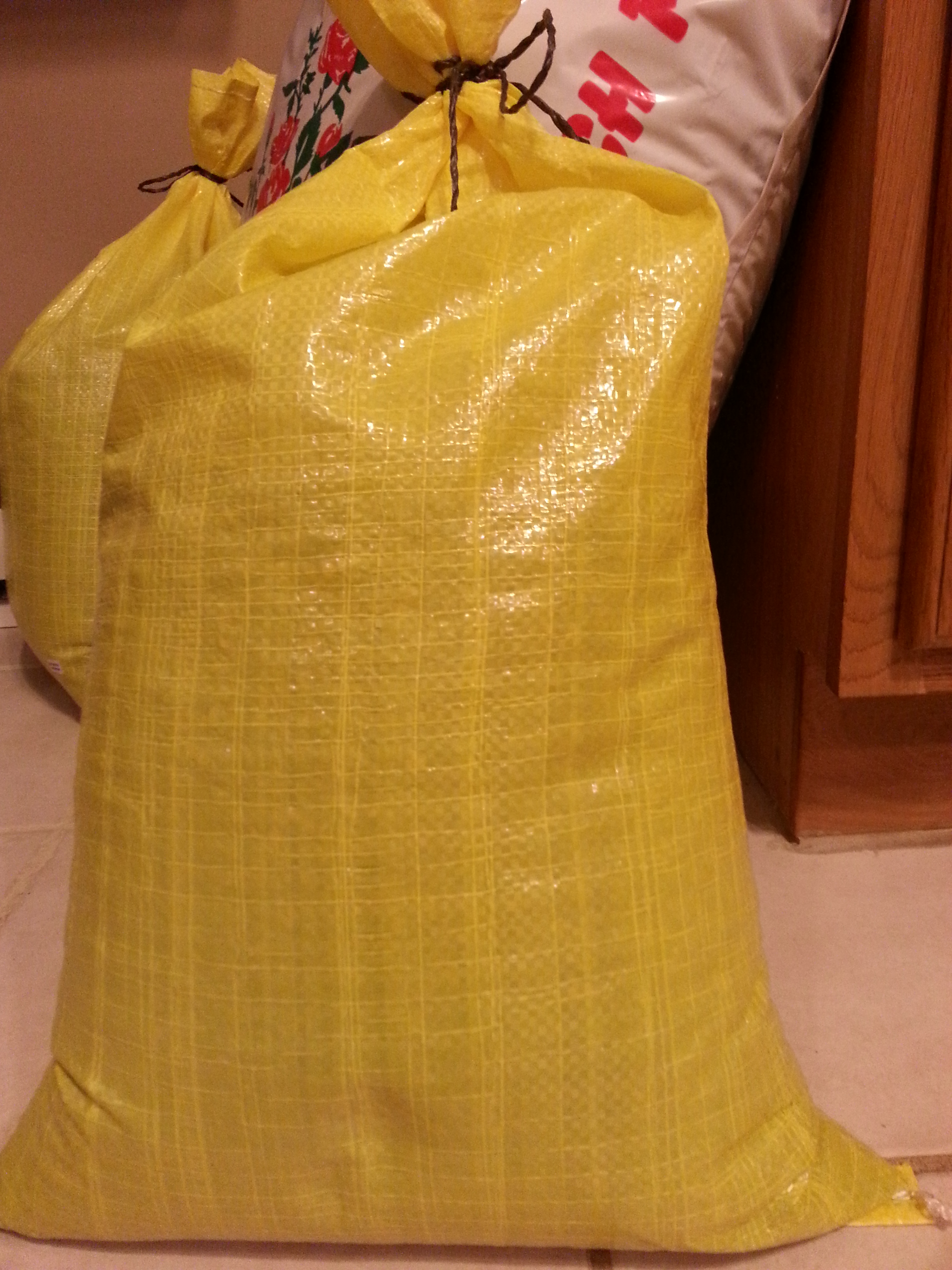 $ 13.95 USD
Underalls model A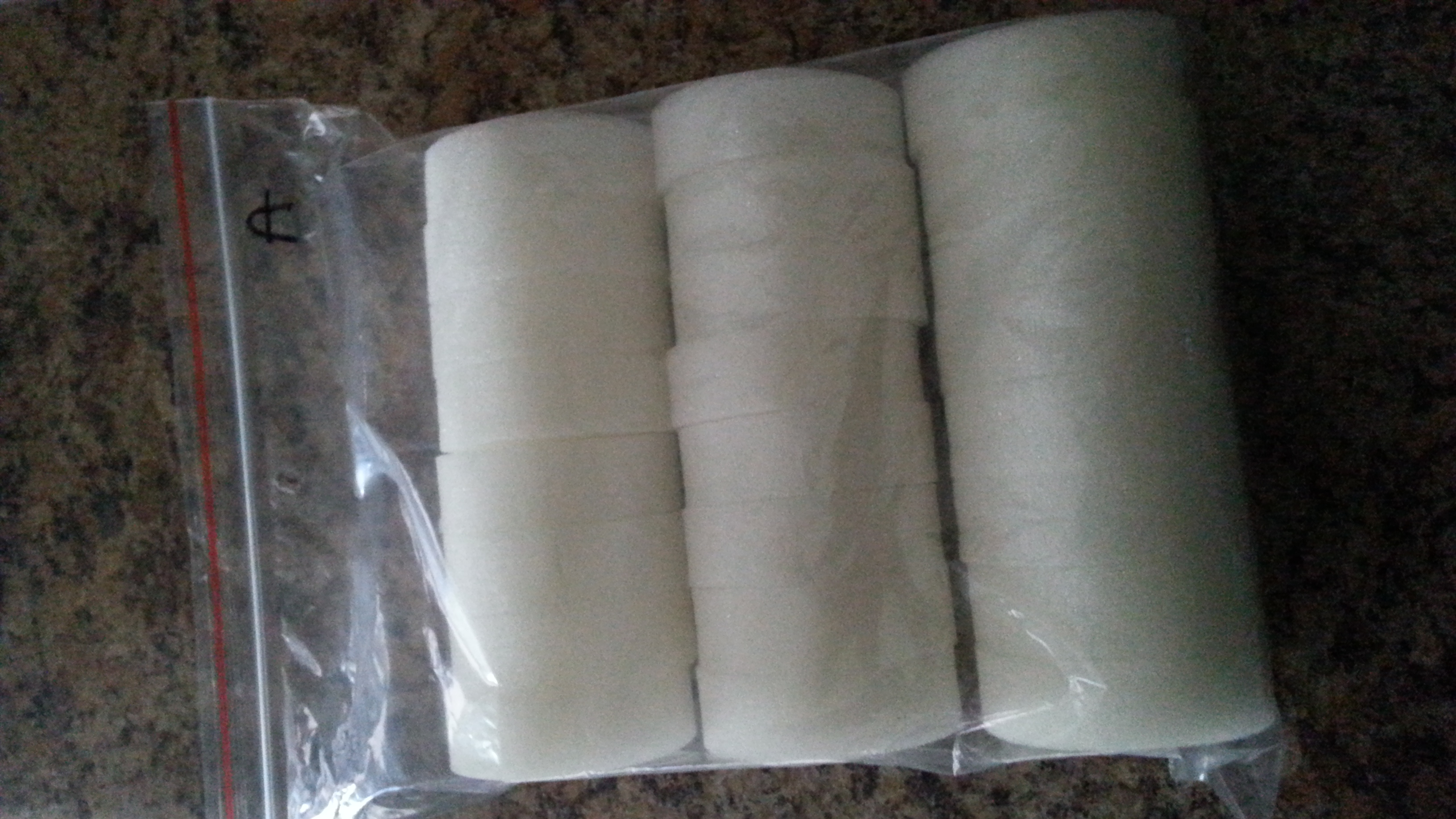 $ 5.95 USD
for #1 1/2 Victors, Sleepy Creek and some other round pan traps.
24 per pack.
Underalls model B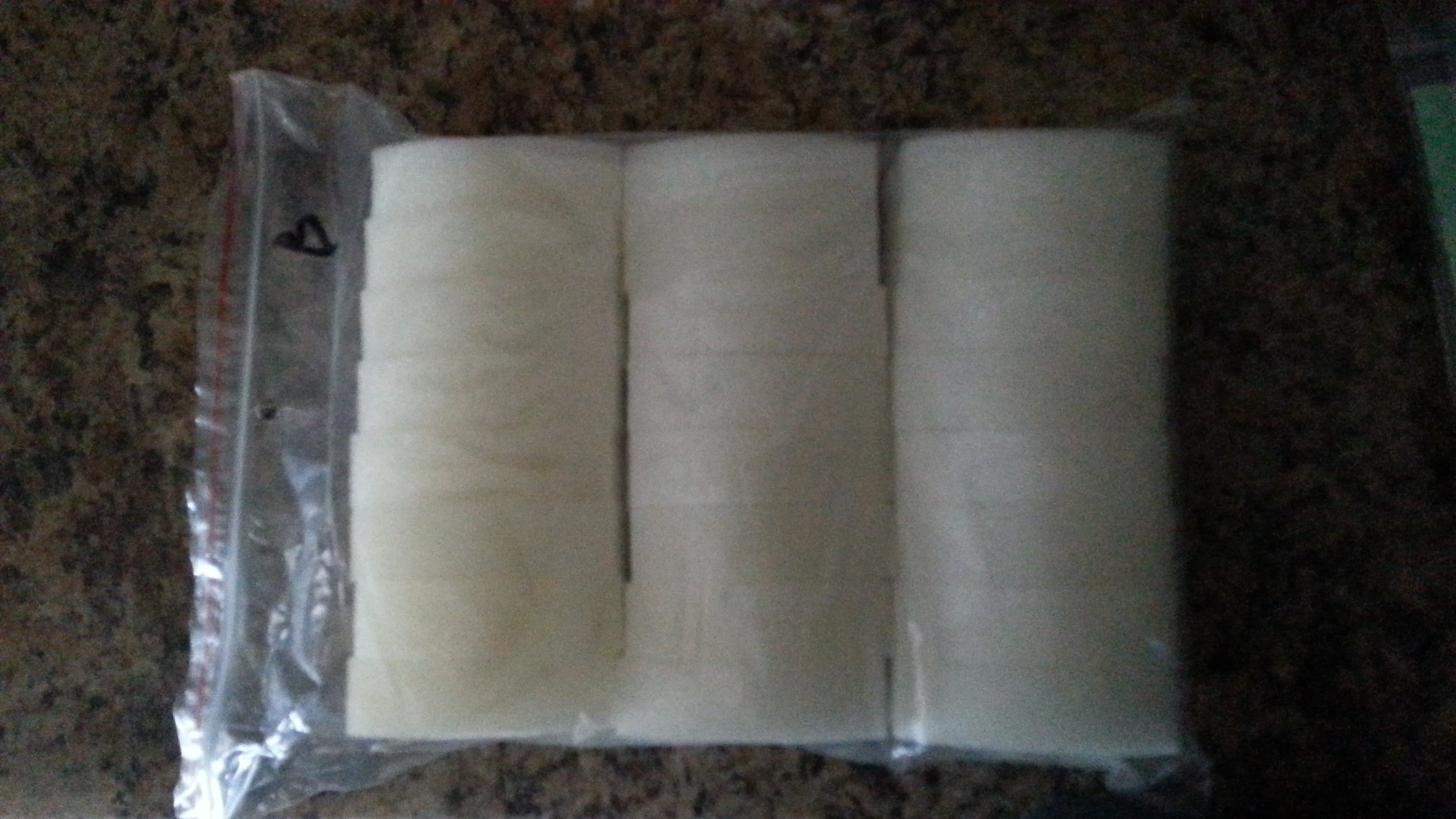 $ 5.95 USD
fits Victors #1.75 & #2, MB 450-FH & MB 550 RC.
24 per pack.
Underalls model C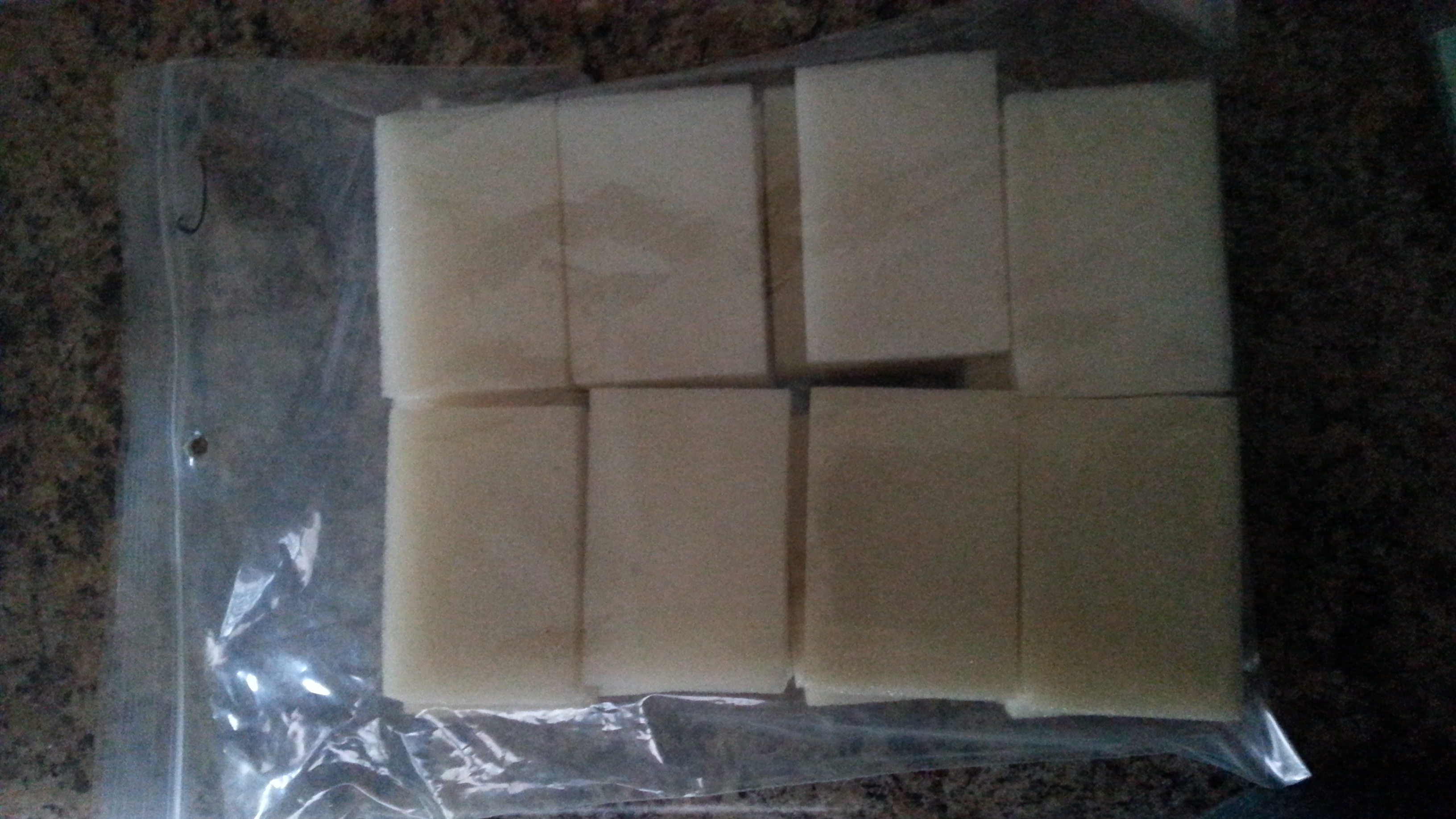 $ 5.95 USD
For square pan traps.
24 per pack.